From the NBA basketball court to the boardroom, former Houston Rocket Joe Stephens has become a player, in every sense of the word, throughout the Houston and North Channel areas. As a young child, Joe discovered his passion and natural skills for basketball at the local YMCA, and by 1991 Joe led his North Shore High School basketball team to the state semifinals, a move that laid the extensive groundwork for his collegiate and professional basketball career.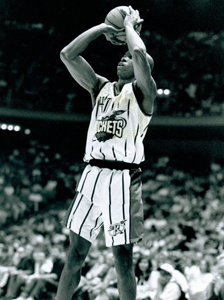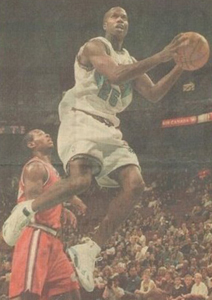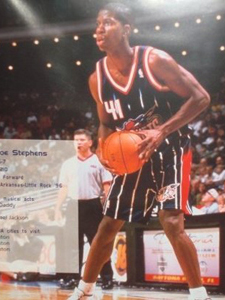 Always focused on the value of higher education, Joe graduated from The University of Arkansas at Little Rock in 1996 with a Bachelor of Science degree. Soon thereafter, he returned to Houston to play for the Houston Rockets, which launched his four-year NBA career, followed by a six-year basketball career in Europe.  In June 2010, Joe graduated from the University of Phoenix with a Master's in Business Administration.
Deliberately generous with his time and resources, Joe founded the Joe Stephens Foundation in 1999 to benefit at-risk youth in the North Channel area, best known for putting on basketball camps for over 1,000 youth while simultaneously teaching them valuable life skills. To date, more than 150 college scholarships have been awarded, over 75 participants from the camp have attended college on full athletic scholarships, and a number of local charities have benefited from donations from the foundation.
Upon the conclusion of his professional basketball career, Joe started SDI Mortgage, a full-service real estate finance company in downtown Houston. In June 2007, he sold SDI Mortgage to Liberty Bank and Trust of New Orleans.   Today Joe owns The Joe Stephens Insurance Agency located in the middle of the North Shore community where he serves over 2,500 clients.  Farmers has recognized Joe as one of the nation's top agents every year he has been with the company. 
At any given time, one can find Joe volunteering, feeding the hungry at St. John's Church, or talking to assemblies of students at local schools.  Most recently, Joe and his staff gave away over 300 turkeys to underprivileged families for Thanksgiving.   During his leisure time, Joe, an avid, accomplished golfer, can be found enjoying the outdoors and unwinding on one of the many Houston area courses.
Joe proudly serves on the Board of Directors of The North Channel Chamber of Commerce and serves as a Commissioner for condemnation cases at the Texas Department of Transportation.  He is a member of the Galena Park Rotary of Galena Park Jacinto City, the National Basketball Association Retired Players Association,  and the University of Arkansas Little Rock Alumni and Letterman Associations.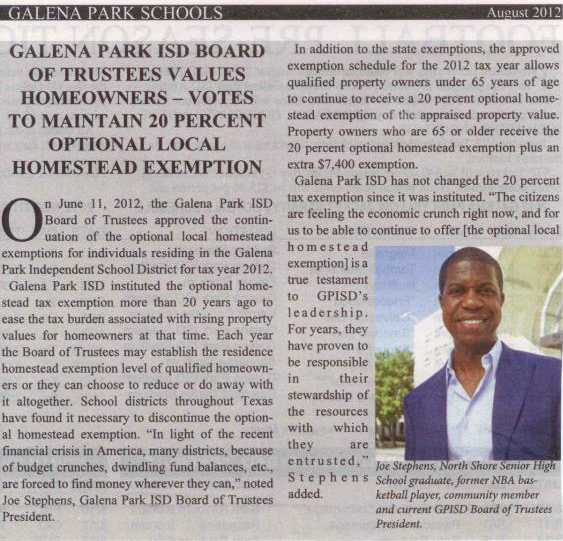 Recently elected as the Galena Park ISD School Board Vice President, Joe serves those in the district by joining this team of dedicated men and women who possess a similar passion for youth and by doing his part to help bridge the gap between the School Board and the community. His own youthfulness, coupled with his work with youth over the years, has equipped him with a keen advantage that is used to connect with and mobilize youth within the school district. As a member of the School Board, Joe continues the Board's existing efforts to help families in the community understand how their voices can make a difference in shaping policies that directly concern their children. Most recently Joe and his fellow school board members made history by voting for Galena Park ISD to join with San Jacinto College to have its first ever Early College High School.  Students will attend this school as ninth graders, and upon completion of twelfth  grade, they will earn an associate's degree and a high school diploma simultaneously.  Ultimately, Joe hopes to help the community see that they are all interrelated and interdependent parts that can successfully work together to produce an effective, sustainable educational system that will result in the long-term academic and professional development of their youth. For Joe, success would be defined by every student in Galena Park ISD continuing after high school  equipped with tools to become positive, productive citizens.  This is a tall order, much like Joe himself, but not surprising, because the motto he lives by is: "If you shoot for the moon, even if you miss, you are still among the stars."
The greater Houston community proudly recognizes Joe Stephens as one of its own—a success story that is about more than just the name of a well-recognized former NBA player. He is Houston's native child, and this complex, anomalous businessman/athlete/community supporter is not restricted to representing a single class, tax bracket, or culture, but EVERYONE. Not only does he possess a love for the game, but he possesses a love for the community and the youth that are the foundation of its future.